I feel the sun rays was Dustin Smiling upon us today 9/27/08 his smile could always brighten ones day and still does from Heaven Above.
We love you Dustin!
Click on picture to Enlarge
Good Morning Dustin your mom made it through the 1st year can not say was easy and no tears but I did it. As you well know your mom is different than most people and handles things in a different way but you helped me this year in so many ways. We always had that fireside chat bond and I still feel it on the days I had no answers of so many questions. I love you so much as you know and will always miss you, know you will always be in my heart every single day. Love, Mother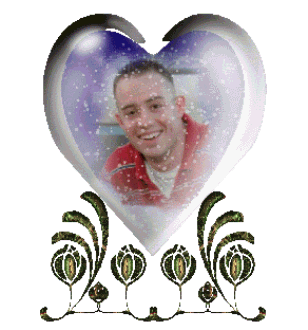 Made by Judi Smart Angel Mom of Craig
CLICK ON ALL PICTURES TO ENLARGE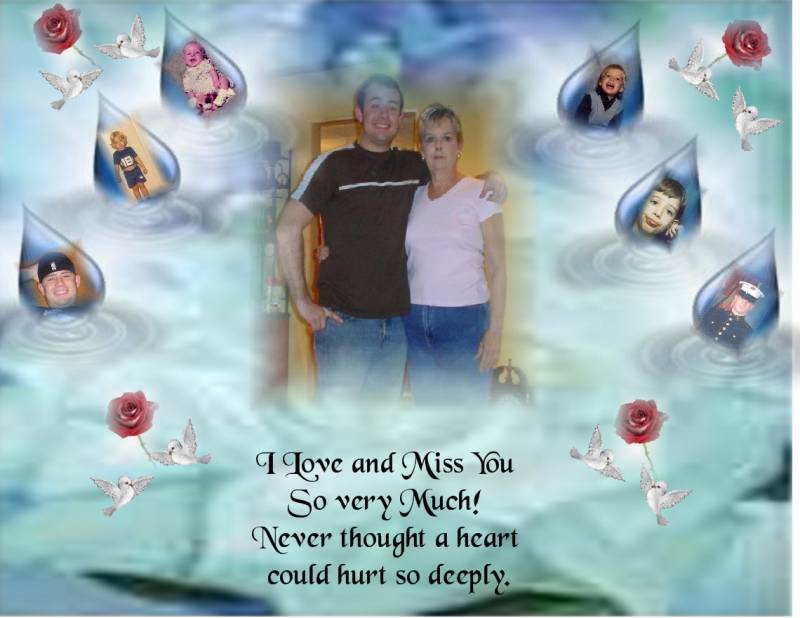 Dustin, I just made it through your birthday a few days ago,
Soon the day you left us will be here, tears continue to flow.
I know you want me to be strong but you know I cry every day.
Some moms say it gets easier, some different, but all agree the pain never goes away.
How can I make it through each day without you, I miss and love you with all of my heart. I never imagined the day would come when we would have to part. Please send me signs, teach me how to look for each one that you send,
A song you loved, a butterfly, a rainbow with no end.
Show me and Tasha and your family how to make it through,
Speak to our hearts, my sweet sweet son, tell us what to do.
We know you are in heaven with the angels and Jesus, trodding on streets of gold, One day we will join you there, what beauty we will behold.
I feel my heart is completely broken,
I wake up thinking I hear the last words that was spoken.
How I long to hear your voice and see your awesome smile,
Ask the Lord to hold me close, help me with the denial.
I love you to the moon and back, I'm blowing kisses to you every day.I can close my eyes and see your face.
Never forget I love you so much and nobody will ever take your place,
I love you Son, Mom
Written for me by DJ French Angel Mom of Shane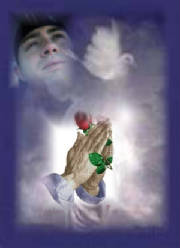 September 9, 2008
Dear God, I know you know the pain I am in as Dustins's 1st Year In Heaven is approaching. I pray that you will give me the strength I need to get through this day. Dustin's birthday was last Tuesday as you know and that was not to bad but my heart feels the day of his death will not be so good. Dustin always thought of me being strong and a survivor so I pray you will help me be for him. I know you took one of the best and he is happy and safe but my heart breaks each and every day. Please give him a hug and tell him I love and miss him so very much.
Love, Patti Dustin's Mom
Also thank you for all the mom's that have been so kind and supportive. And give all their angels a hug too!
Celebration in Heaven
I sit and think of Heaven How wonderful it must be The splendor and the beauty As far as the eye can see.The angels with their harps of gold Playing music and filling the air With tunes of comfort, melody And love shown beyond compare.With streets of gold and mansions high He had promised all of thisAnd all our loved ones who left before Oh, what a wonderful time of bliss.Oh, sweet Jesus there to greet us As we enter through the gate,What a lovely time we will have then Our union in Heaven we will celebrate. © Kentucky_Lady 4 (March 21, 2002
(Click on Pictures to Enlarge)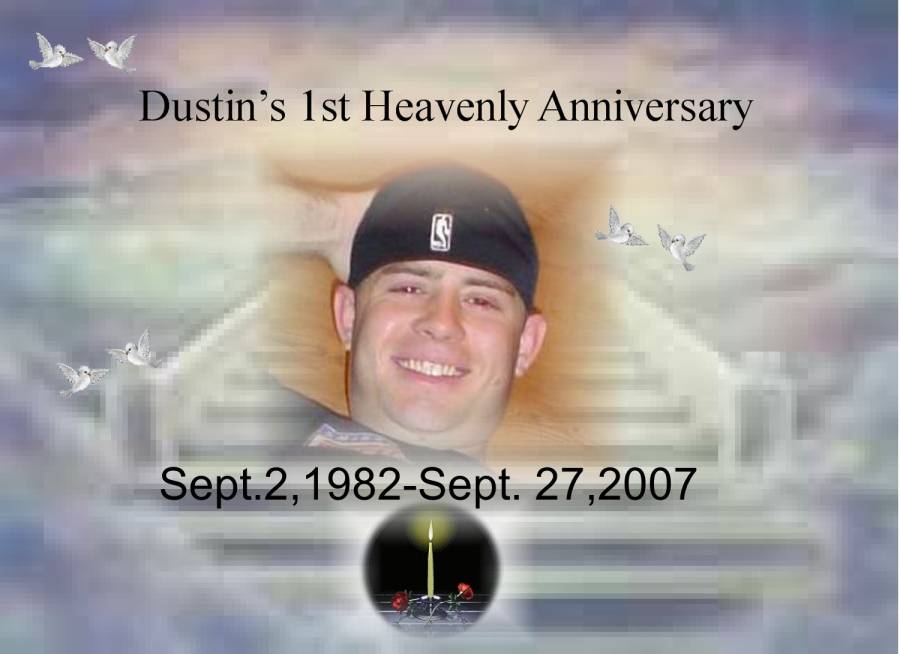 Dustin, I know I can't be with you on this very special day, but I know you will feel love as I send it your way. I'll picture you with a smile upon your face And dancing and singing and happy and in so much peace. In a place I can only imagine the beauty and grace. I know you took a piece of my heart, as I have kept a piece of yours waiting to see you as I walk through heavens doors.A year has gone and I'm remembering about days of many years ago, wishing I could say once more, "Dustin, I love you so!" My heart is still broken ,I miss you, Dustin, so very much; this year has been so hard and yet I have to face the fact that we have to be apart. But by God's grace I know someday we'll meet in heaven and, Dustin we'll talk and laugh as before. But until the time that Jesus calls my name, I'll keep holding to the promise that I'll see you once again!
Happy 1st year in Heaven and I love you so very much ! Mother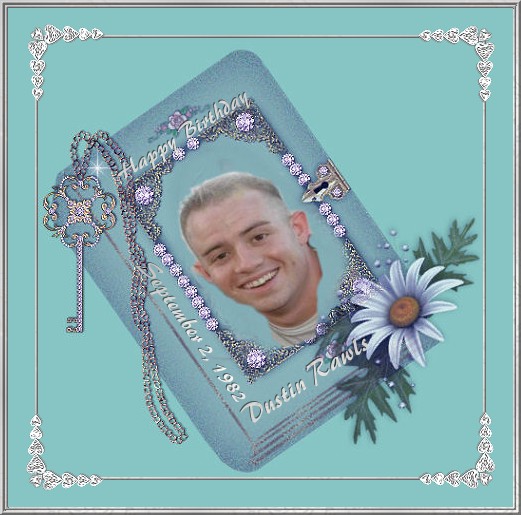 From Susie Angel Mom of Jason Dunn
June 5, 1974 ~ March 13, 1997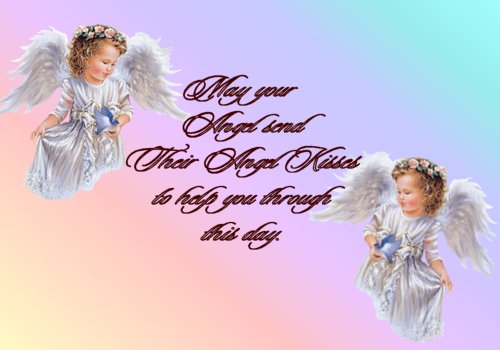 Patti,Just a note to let you know I am thinking of you as you remember the day your Precious Angel Dustin gained his wings. I pray the day goes peacefully for you and that you have many signs that he is near.
May you feel his angel kisses and hugs on the breeze that touches your face.
Sending you hugs,
Kathie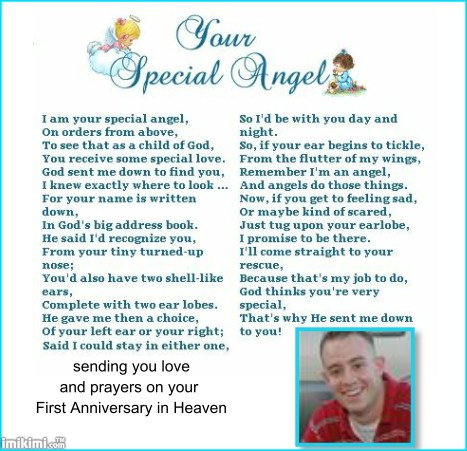 Dear Patti
I wanted you to know I have you & your handsome Dustin in my heart and in my prayers.Today will be so difficult as all days away from our sons are but Remember Dustin is only a whisper away.I had this poem that was sent to me on Leo's first Anniversary it author I do not know put I would love to pass this on to you
God Bless
Love & prayers Rose Leo's mom
First Anniversary in Heaven
An angel's first year in heaven
Please don't weep for me no more
Don't let grief consume your life.
For I am in a state of bliss
No sorrow or no strife.
For death is not the end of all
It's but the very start.
I have left my love with you
To hold within your heart.
It's not a year without me
It's a ye year with God and glory.
It's not the end of a life
But the beginning of my story.
For I have not left you
I am with you everywhere.
All the things we used to do
I'm by your side to share.
The children that are in your care
The one's I loved so dear.
I still watch them lovingly
For I am always near.
When you hold them close to you
Singing a lullaby so sweet.
I am singing harmony
While sitting at your feet.
So the loneliness that you feel
Please try to turn around.
For the author of my life
Has brought me to hollowed ground.
My life among the angels
Was what God planned for me.
Please accept that He knows
I'm where I'm suppose to be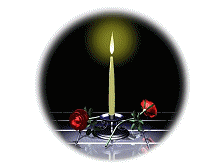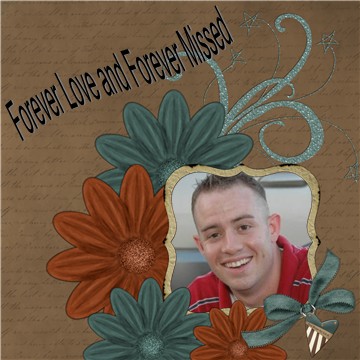 Hope your day is peaceful! Please know that my thoughts and prayers are with you! Lori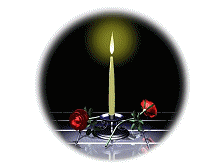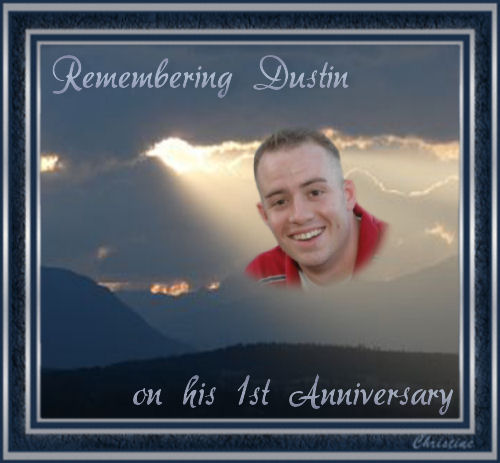 Patti, my love and thoughts are with you as Dustin's first anniversary approaches. I pray that you will have a gentle day filled with love and many wonderful signs from Dustin..I know he will be with you, giving you strength and helping you through this very difficult day.
With love, Christine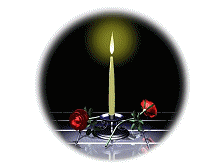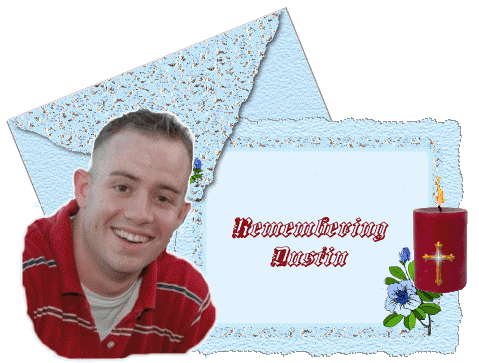 Gift from, Reeny Angel Mom of Dustin and Becky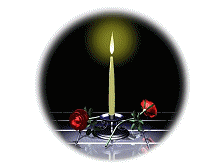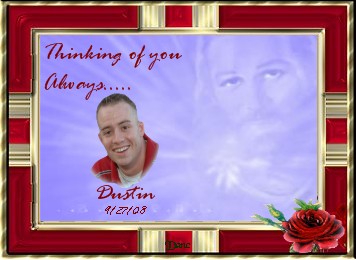 Patti,
Heres a little gift for you on Dustin's first Angelversary , my you feel his presence hugging you on that day.
Hugs
Debbie
Please visit my grandson Jakob's website & sign his guestbook at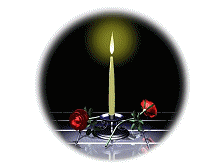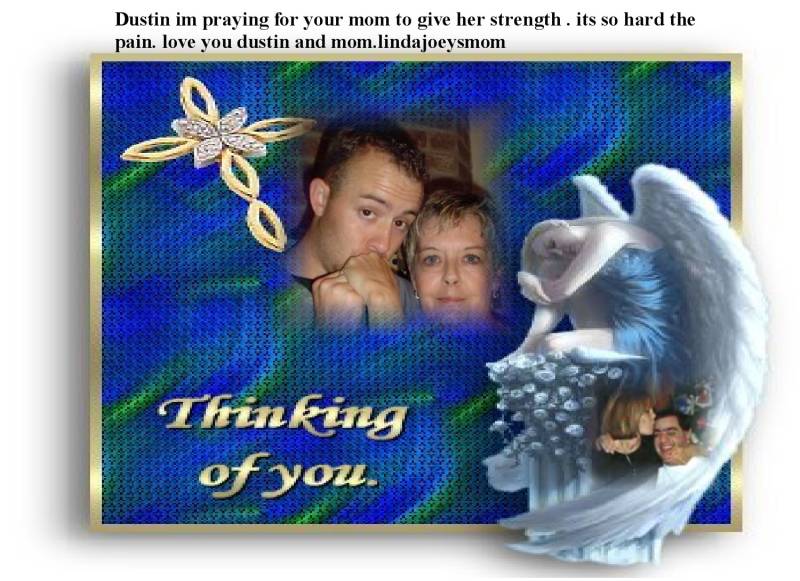 I love you so much. Hey dustin im here for you and mom.linda Angel Joey Scarpa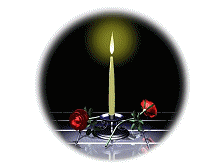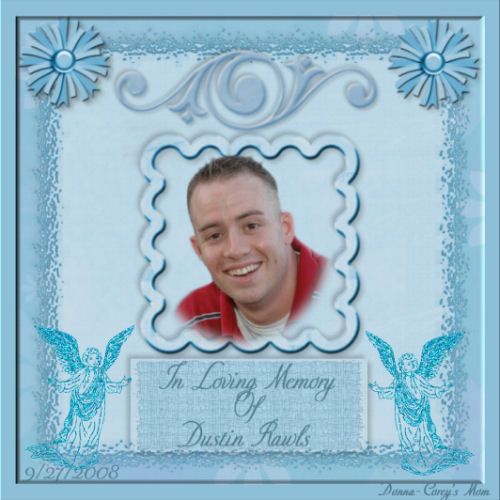 Patti,
Thinking of you as Dustin's one year angelversary approaches. I pray that you feel your angel around you and that Dustin sends you a sign of his eternal love.
Here is a gift in loving memory of Dustin. May you find comfort in knowing that Dustin will never be forgotten.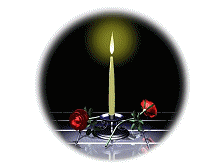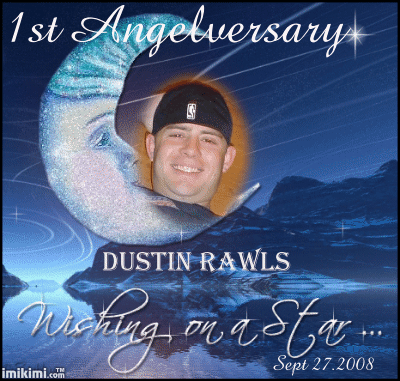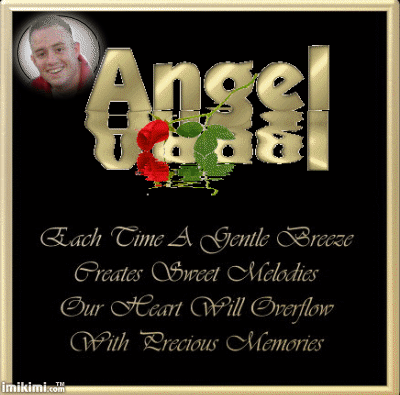 The gifts above are all from DJ Angel Mom Of Shane
Patti, my thoughts and prayers are with you Hugs, Dj
The greatest wonders man can build
Will all in time decay
But the wonder of a Mother's love
Will never fade away~~~
We sure miss you but heaven's sweeter with you there.       
Shane Short 7/17/72- 3/10/95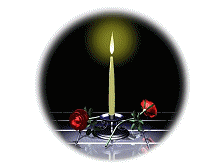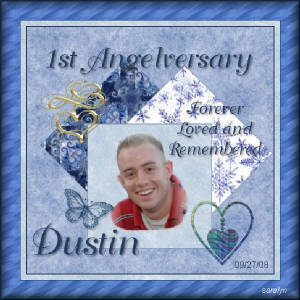 ((((((Patti))))))
The first anniversary is truly difficult---in some ways, it is worse than the day your angel died, for on that day, you were blessedly numb and did not feel the full extent of your loss; it probably did not even seem real to you. I will be holding you in prayer as Dustin's first anniversary approaches, praying that God will hold you close to His side, granting you His peace, comfort, and strength. Please do not hesitate to ask for our prayers and support; we are all traveling this same road, though some of us, such as me, have been on the road for many years now.
Love and hugs,
Saralyn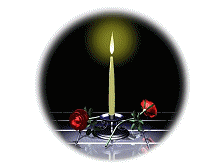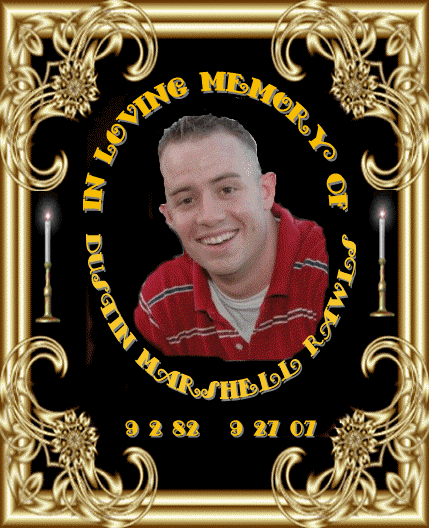 Dearest Patti here is a small gift for your Dustin .
You will continute to be in thoughts and prayers as Dustin's dates approches .
Hugs
Reeny
Angel'sDustin Fritzer And Rebecca Fitzer Groves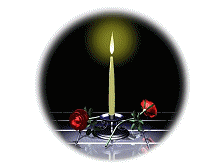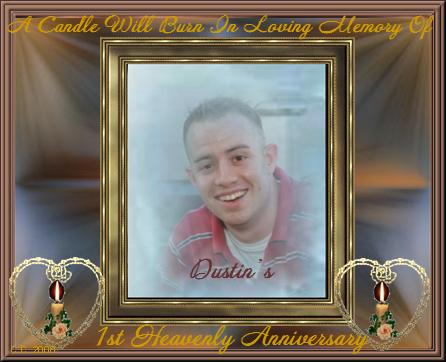 A candle will also burn in memory on Dustin's heavenly anniversary. Just know I send you all my love and prayers. As I know the pain you are feeling. Please take care and know I am here if you need anything at all. Love,Carol Carico