A Proud Mother and Grandmother
Loves of my Life
One in Heaven and Two here on Earth
But all here together in my heart
Love you so much Mother and Memaw
(Click on pictures to Enlarge)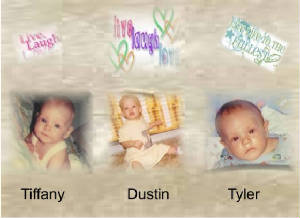 There is nothing to compare
to the miracle of birth
Few words to share
that will equal it's worth.
In the twinkle of an eye
a new life is formed.
And for a lifetime
a mother's heart is warmed.
In your beginning
a dream coming true.
Open arms awaiting
a miracle such as ya'll.
(c) 1998 Michele