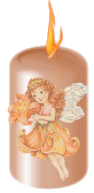 I light this candle today September 27th, 2008, for all moms with angels and thank you so much for sharing and being there for me on this day of Dustin's 1st Angelversary and this year. I wish we were not all on the same journey and met differently but the bond we all have I think is stronger than just a friend. I pray for all of us to have gentle days
and many happy memories. You know this year has taught me so much in so many ways hard to explain but this is not all about me it is about so many. When you get the shock of this nightmare you feel why me, why my child and seem to focus on yourself more than others that have experienced this same thing. I didn't want to even think about others for a couple months and then I knew I needed these other moms more than anyone in my life now. SO I slowly started joining the grief support groups and a year later know with all my heart I could not have made it with out all of you!
Love and hugs! And Many Thanks! Patti

Psalm 9:2 NIV
I will be glad and rejoice in you; I will sing praise to your name, O Most High.

You are a child of God, His treasured possession. He created you in His own image. He chose the day for you to be born. He has a plan and a purpose for your life. Cherish your birthverse.(September 2)
Dear Patti
I have made this gift for your baby for the month of September, :) Love and prayers to you sweetie..
Love, CindyJo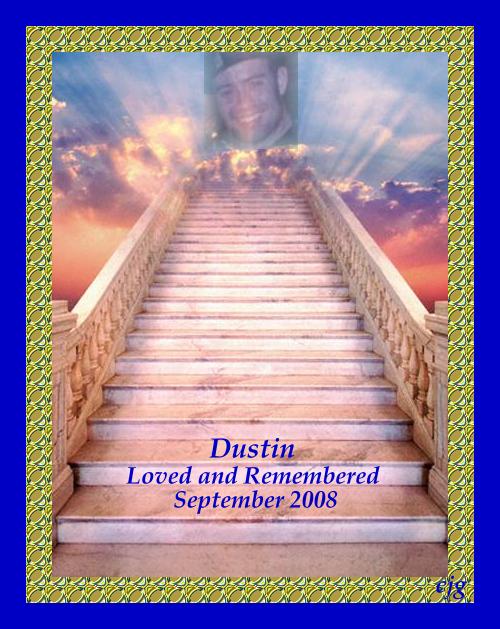 I want to thank all the moms that have given me so much support for this upcoming month. The feeling of fear as set in and being the first year of everything without Dustin has been a journey of many emotions. I have met so many wonderful moms that I wish I could have met under different circumstances but we all are on the same journey of a new life without a loved one. The journey no one can travel with you unless they have lost a child. As Mitch Carmody states "The Fortunate Others" I thank also for their support and I pray they never have to travel this journey which is more painful than any one should ever have to learn to live through. I know Dustin is in Heaven with God and happy and safe and his new life is more beautiful than I can imagine and knowing this should be enough to take away the pain but it is not that simple for a mom. My love and heart goes out to all and a BIG HUG! for each and everyone of you! Patti Rawls Mom of Angel Dustin Marshall Rawls
The actual time that a child spends with his mother varies, but the impressions last forever. No one ever forgets their mother. The closeness that was shared in the first few years when the child looks to his mother for every need, and for approval is never forgotten. The bond is deep and forever.
Click on picture to enlarge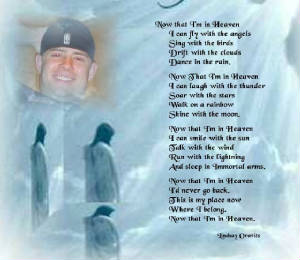 I Wanted You To Know......
I Was Sitting Here In Heaven
And Having A Wonderful Day.
I Started Thinking About You
And All The Things I Didn't Get A Chance To Say.
I Don't Want You To Worry About Me
And Please Don't Shed Any Tears,
Because I Will Wait For You In Heaven,
If It Takes A Hundred Years.
Everything I Had On Earth
I Have In Heaven Too!
My First Day Here
My Body Became Brand New.
It Is Really Pretty Here
And I Love My New Home,
Although Your Heart Is Broken
Because My Body Is Gone.
My Love Will Always Be There
As You Go Along The Way,
Just Take A Peek Inside Your Heart
There Is Where I'll Stay.
Know That I Loved My Family
And All My Friends Too,
My Thoughts Will Be With Each Of You
Your Whole Life Through
Teresa Shelton Bright