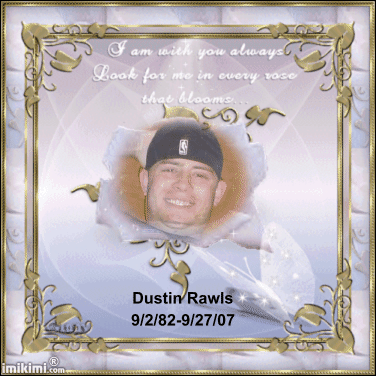 9-27-2009
I wish I could say this year has been easier without you Dustin but has not. I wish I could smile and be happy that God choose you to take home with him so soon but I can't. I know your happy and safe that is the only thing I can say that is a good thing. And that I will see you again one day!
I do not know if and when that day will come the pain in my heart will ever go away,the anger,the questions,nothing seems to fill the emptiness and pain I feel each and every day for very long. I see your smile each and every day.and still try to make myself beleive your still in Yuma and that you will be home soon.I know that this is not true but helps me get through some of the hard days. so many have got past the pain and can accept your in Heaven and I so envy them but your Mom just can't get there . Little Billy has helped me so much and I think you have a hand in that he can make me smile when no one else can. I love you and miss you so much! Mother
Click on all pictures to Enlarge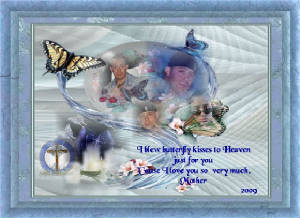 ButterFly Kisses
Softly, softly a surprise is coming
Floating in the mist,
Creep up very slowly
Or the whispers you may miss.
Just a little secret tickle
There, warm upon your cheek,
Close your eyes, no looking
Uhuh, you mustn't peek.
There, now did you feel it
That tiny tingle touch,
I blew butterfly kisses for your birthday
'Cause I love you very much.
Derry's Heart Poems © 2005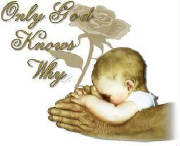 Smiling he said, I am here to protect you
Keeping you safe from every harm
And take away all your fears
Making your heart feel light and warm.
I always trust my guardian angel
I feel his love all around
When I feel lonely or alone
I know where he will be found.
God shows love for us in every way
He sent each of us our own angel
Give thanks to Him, as you pray
God's angel is here to stay.
Glenna M. Baugh © 2005
Living by Faith
"God sent angels to earth
to protect and care for each of us;
They are close and here to stay".
Quote by: ~Glenna~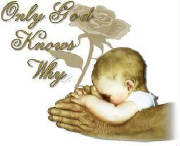 Drifting to Forever

I'm going to my rooftop
To embrace a sky of blue
It's where I like to go
When there's nothing much to do

I like to feel the cool breeze
That musses up my hair
I like to go and feel free
Of every single care

And there I close my eyelids
And slip into such peace
I drift into forever
Where all my heartaches cease

And when I reach that moment
My spirit floating free
I open up my heart's door
And feel you there with me…
By Sharon Frye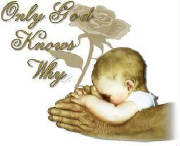 I should have named you Sunshine
Right from the very start,
Because of all the kind things
Found stored within your heart.
Because you bring a smile to all
And brighten every day,
With all the good deeds that you do,
The kind things that you say.
I count myself so lucky
To have you for a son,
I know in times of grief or need,
On you, I can depend.
And so I always watch for
My next message you get to me.
I send this wish to you in Heaven
To thank You for being my Son,
Love,Mother